To schedule backflow testing, installation, or repair, please contact us at 888-843-7155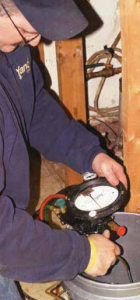 PAWSC has highly trained and professional backflow assembly testers on staff, who have attended rigorous training programs and are certified by the American Society of Sanitary Engineering (ASSE) to test, install, and repair all types of backflow assemblies.
Backflow assemblies have parts that can break down and wear out, just like the parts on your car. By having the backflow tested, you will help to ensure the safety of the drinking water supply.
Annual testing of backflow prevention assemblies is vital to ensuring safe drinking water, and is required by the International Plumbing Code and ASSE standards. The Cross-Connection Control program for most water authorities follows this regulation.
An average inspection normally takes between 15 to 30 minutes. There will be a brief interruption in water service during this time as the device is tested.
PAWSC performs backflow service throughout eastern Pennsylvania, as well as in Delaware.